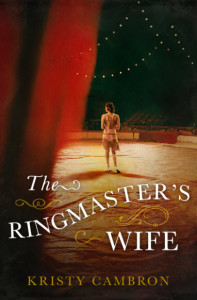 In The Ringmaster's Wife, Kristy Cambron takes us deep into the rapidly-changing 1920s with young ladies Mable and Lady Rosamund as they carve out lives of their own choosing, following their own dreams.
Cambron's characters, both fictional historical, are totally believable and engaging. They're delightfully flawed yet with redeeming aspects that make them endearing. A few times as decisions were made, I wanted to yell, "No! Don't do that." And while I was certain danger or heartache lay in that direction, each decision was consistent for that character.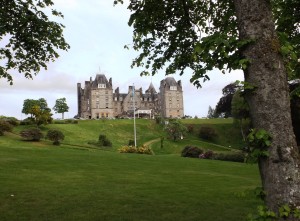 Whether the reserved air of an English nobleman's estate or the flamboyant life of the circus, Cambron creates a story world that sizzles with life. She has an uncanny ability to choose a golden-nugget detail that conveys the essence of a character, a place, a time. Each line brims with insight into both observer and observed. For example:
"Rosamund watched her mother's transformation … showering compliments. Dripping with charm. Why her very words could have slithered through piles of sugar."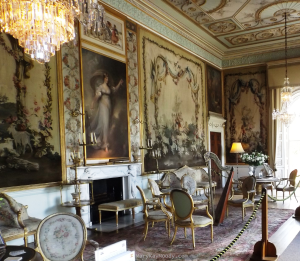 Have we any doubt how Rosamund and her mother relate?
"He stood tall, owning his spot by the hearth with a devil-may-care ease unusual for a drawing room in Yorkshire."
Or that the shocking new visitor captures Rose's attention?
Scenes and settings come alive in the theater of our minds:
"Mable … walked through the halls of a sanitarium, trying to angle stiff crinolines and yards of lace around the metal wheels of hospital beds positioned as fabric traps …"
With a thorough grasp of historical research (like another favorite author, Laura Frantz), Cambron's stories ~ the fictional saga of Colin and Rosamund and the historical lives of John and Mable Ringling ~ are perfectly interlaced. The novel is such a seamless blend, it's impossible to dissect the two threads while reading. So superbly woven that if Cambron didn't tell me, I'd never suspect that half of the novel is not based on actual people. *
Because the two women around whom the story builds are 25 years apart in age, the story unfolds in chapters that jump back and forth in time. While each transition is marked with a date/location slug, I still found following the story a bit difficult. At times I had to return to the previous chapter in order to map out the relationship of the new action with the previous. A minor frustration in a story that captivated me. I cared about what happened in each person's journey. And I will take great pleasure in re-reading The Ringmaster's Wife with Cambron's signature powerful story, lively settings, and fascinating characters. And her lovely way with words.
"Allowing … the clippings, one by one, to float out across the surface of the water. Every one of them danced.… Photos of Steinway pianos. Drawings of pink roses. Catalog pictures of fashion models … all disappeared in the blackness of the sea. It was a ticker-tape parade of forgotten dreams."
Ahh …  Re-reading this is like savoring the finest chocolate.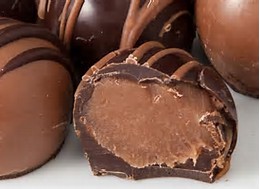 * Cà d'Zan photo, courtesy of By Fred Hsu  https://commons.wikimedia.org/w/index.php?curid=57645633