I'm thrilled to share another winner with you. I know you'll enjoy meeting Clarice G. James and her cast from DOUBLE HEADER. First the back cover blurb:
"Casey Gallagher has it all together—a lucrative marketing career in Boston, a happy marriage, and a successful sports column she writes with her younger brother Griffin. She's got a plan to save for a dream home in the suburbs and then have kids, even though her cop husband Sam doesn't see the need to wait.
The memory of her father still looms large four years after his passing. He was the cop who let her shine his boots, and she's idolized him since she was a little girl. Even Sam can't live up to his legacy. Then Casey receives a letter that bursts her balloon. Could her father not have been all she believed he was, and if so, how can her mother, who recently remarried and found a new faith, so easily forgive her former husband? Even the Red Sox rookies Casey and Griffin have recently befriended seem to have an inner peace that puzzles her.
As Casey attempts to fit the changes life throws at her into her idealistic plan, she is challenged by the dialogue running in her head. Is it her conscience, her imagination, or the voice of the God she's not sure she believes in?"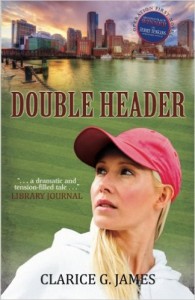 When Casey's happy memories from childhood are fractured, she begins a tough journey to re-establish her equilibrium and forge a new plan for her life. While this task is deeply emotional and challenging for her, Clarice James's skill in writing and her witty style make the  reader's journey a delight. Continue reading →