A Mysterious painting breathes hope and beauty into the darkest corners of Auschwitz–and the loneliest hearts of Manhattan.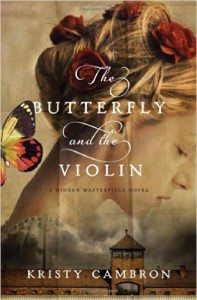 "…As Sera untangles the secrets behind the painting, she finds beauty in the most unlikely of places."
THE BUTTERFLY AND THE VIOLIN is a powerful story, well told … beautifully told. 'Tis a gifted writer who can not only open a window for a reader to peer into a different world, but transport the reader there. Kristy Cambron transported me to another world ~ and I don't feel as if I've quite returned yet.
On finishing the story, I closed the cover and felt strangely untethered from my overly hot summer home. Also bereft at leaving behind this place Cambron had so thoroughly delivered me to. I still haven't analyzed the why. I'm not certain I want to. But I do know that this tale displays our urge to create beauty and the power of beauty to infuse hope. That message resonated with me. I suspect it will with you. (I've posted about creativity before. You can read my encouragement here.)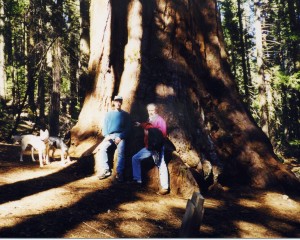 The quiet, reverent awe this book provoked reminds me of walking among the giant redwoods in John Muir Woods.
Below, the blurb from THE BUTTERFLY AND THE VIOLIN ~ which I highly recommend.
"Manhattan art dealer Sera James watched her world crumble at the altar two years ago, and her heart is still fragile. Her desire for distraction reignites a passion for a mysterious portrait she first saw as a young girl–a painting of a young violinist with piercing blue eyes. In her search for the painting, Sera crosses paths with William Hanover–the grandson of a wealthy California real estate mogul–who may be the key to uncovering the hidden masterpiece. Together Sera and William slowly unravel the story behind the painting's subject: Austrian violinist Adele Von Bron.
A darling of the Austrian aristocracy of 1942, talented violinist, and daughter to a high-ranking member of the Third Reich, Adele risks everything when she begins smuggling Jews out of Vienna. In a heartbeat, her life of prosperity and privilege dissolves into a world of starvation and barbed wire. As Sera untangles the secrets behind the painting, she finds beauty in the most unlikely of places: the grim camps of Auschwitz and the inner recesses of her own troubled heart."