Early in our marriage Ed navigated job transfers and down-sizing—both of the company and salary. We developed the habit of purchasing our Christmas gifts throughout the year, and when December rolled around we had no need to shop. But we'd spend a date night sipping hot chocolate and strolling through shopping areas enjoying the decorations. Years later we shifted to a big shopping mall. But nowadays, it seems walking the aisles of stores at Christmas is more endurance test than enjoyment. Do you find it that way too? 
Well, the next time you're out and about during the Christmas season, or watching television and get bombarded with commercials, try this. Look at individual decorations and try to see the spiritual connections they might make. A few examples–
Easy. "Now when Jesus was born in Bethlehem of Judea … there came wise men from the east to Jerusalem, saying, 'Where is he that is born King of the Jews? For we have seen his star in the east, and are come to worship him.'"  Matthew 2:1-2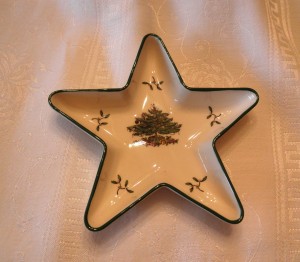 "I Jesus … am the root and the offspring of David, and the bright and morning star." Revelation 22:16
Candles, Lights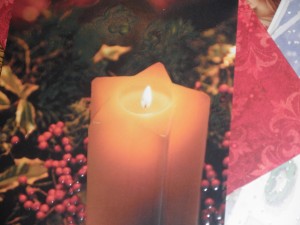 "Then spake Jesus … 'I am the light of the world: he that followeth me shall not walk in darkness, but shall have the light of life.'"  John 8:12
"…the light of the glorious gospel of Christ, who is the image of God …"  2 Cor. 4:4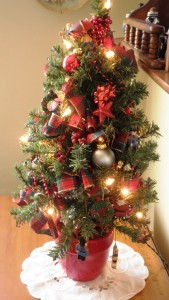 Christmas Tree:
Christmas trees are typically evergreens. And while their use for celebrating this holiday may not have started as a spiritual display, the ever-green characteristic reminds me of everlasting life in Christ.
Candy Canes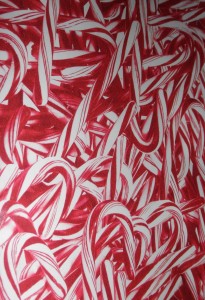 This candy, of course, resembles the crook shepherds carry, and shepherds play a well known part in the Christmas story, being the first to hear the news heralded by the angels in Luke 2:11: "For unto you is born this day in the city of David a Savior, which is Christ the Lord." Turned upside-down Also a story wends its way around this season, that a candy maker of old made the crook-shaped candy with colors—white representing Jesus Christ's purity and red, His blood shed for our salvation.
In the spirit of giving at Christmas, please share what other decorations come to your mind. And how might they redirect thoughts back to the real meaning of Christmas?