In his new novel THE TURNING, Davis Bunn presents a story which is paradoxically as familiar as age-old fairy tales yet as astonishing as tomorrow's news.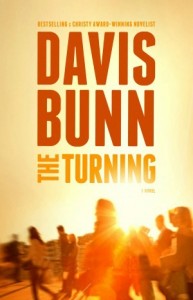 He brings together an unlikely group of five ordinary people. Ordinary, but dissimilar. Ordinary, except that they've each heard God. When they converge in New York City and encounter each other, they recognize that God has put them together. But they don't know why? They only know they've been summoned.  
Bunn says that each task assigned them is demanding, though not particularly grand. And each act of obedience brings forth the next measure of guidance. They discover that their tasks are linked and challenge the cultural direction of the nation.
With control of power and money at stake, malicious forces align to oppose them. As the five encounter threats and try to remain steadfast in their faith, the public debate and media frenzy place an unprecedented spotlight on them, on knowing and doing God's will, and on the movement some call The Turning.
The Bible relates occasions when God gathers a group of individuals who are to use their skills and gifts to accomplish God's purpose:  Moses assembling ten spies; Gideon's army of 300; Jesus' twelve disciples. But it's history.  We read it—we don't live it. Reading THE TURNING just might cause us to rethink that. 
As always, Bunn delivers a story that coils tighter as it flows. This one has plenty of surprises that will keep you flipping pages at a brisk pace.
And he continues to astound me with his skill—not only of storytelling, but also crafting realistic, compelling characters. This cast is culturally dissimilar yet familiar, and whether Black, Caucasian, Jewish, Chinese, or Arab, they all ring true. To draw such diverse and distinctive characters—elderly widow, driven businessman, spinster choir director, young career woman, refugee surgeon, transportation manager, motorcycle thugs, or biker friends—with precise language and economy of detail is master craftsmanship.
In THE TURNING, Davis Bunn pulls back a veil and shows that God uses the common actions of ordinary people to accomplish great things. 
I received a complimentary copy of THE TURNING from River North Fiction in exchange for my honest review.I highly recommend it—as does my husband. Between us we give it ten stars!
#   #   #
Now–information about SWEEPSTAKES and other free resources:
Davis has generously provided a free peek at the first 3 chapters of THE TURNING. Read them here.
Even more generous is the Sweepstakes Davis & Moody Publishers [ No relation

] are offering. Enter for a chance to win. You can enter once per email address per day. Nice.
Grand Prize — Apple iPad Air  
First Prize — a package from Moody Publishers that includes a Ryrie Study Bible, Moody Bible Commentary, and $100 Gift Card for ShopMoodyPublishers.com.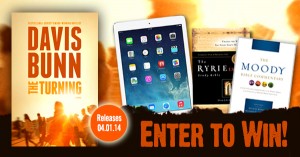 Trailer for THE TURNING, Davis speaking about the novel, daily devotional download, and additional resources are at The Turning Book website.
About Davis Bunn
Davis Bunn is a four-time Christy Award-winning, best-selling author now serving as writer-in-residence at Regent's Park College, Oxford University in the United Kingdom.
Defined by readers and reviewers as a "wise teacher," "gentleman adventurer," "consummate writer," and "Renaissance man," his work in business took him to over 40 countries around the world, and his books have sold more than seven million copies in sixteen languages.
Visit Davis at davisbunn.com or theturningbook.com/
Facebook: facebook.com/davisbunnauthor
Twitter: @davisbunn
Pinterest: http://pinterest.com/davisbunn/