"It is easy to think Christmas, and it is easy to believe Christmas, but it is hard to act Christmas." [Act Christmas by anonymous]*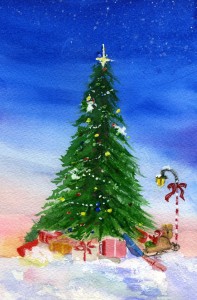 Scripture, especially Matthew chapter 25 gives me ideas of how to act Christmas. There is related that Jesus will say to some, "Come, ye blessed of my Father, inherit the kingdom prepared for you from the foundation of the world" because they fed, clothed, and in other ways ministered to Him. When questioned about when they had ministered in such ways, he answered: 
"And the King shall answer and say unto them, 'Verily I say unto you, Inasmuch as ye have done it unto one of the least of these my brethren, ye have done it unto me.'" Matt. 25:40
So it seems that doing Christmas is more about serving others, meeting others' needs. Perhaps even sacrificial giving.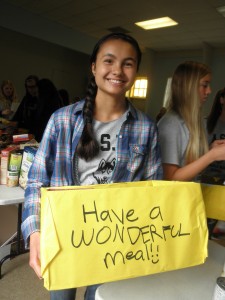 When my son was young, we started a tradition of hanging a stocking for Jesus. It was just a dark green singleton that'd lost its mate. Humble, like Jesus. But as we went through the Advent season it was a great visual reminder to think about what would make Him happy. We filled the stocking with slips of paper identifying gifts given in Jesus name ~~ gifts of time, love, words, cookies. But also times we had chosen to yield our way, our turn, our preference in favor of someone else. 
During many of those early years we had need of help from Food Stamps or  generous family and friends ourselves, but we still looked for ways to make choices and give to others. One year Karl added a few toys, a pair of jeans, and some getting-tight shirts to a box of food and homemade goodies we packed for a desperately poor family in our church. Late one night we nestled it on their front porch, rang the bell, and dashed away. 
Karl did Christmas the next Sunday after church when he glowed, telling me that in Sunday School he saw the young boy of the family wearing a shirt Karl had given. Karl was thrilled—and never told anyone aside from me. 
Some ways our family has chosen to add to Jesus' stocking is to reach out to homebound neighbors, bring Christmas cheer to those sidelined in the hospital,work with Angel Tree (a part of Prison Fellowship), and make donations in the names of our kids and grandkids to charities— Amazima Ministries, World Help, International Justice Mission, Heifer International, Sonshine Haven, or Samaritan's Purse. 
Please share your ideas for filling Jesus' Christmas stocking.     
* Act Christmas by anonymous quotation found at www.appleseeds.org.