At review's end read a short interview to discover the astonishing connections this story has to Bunn's life.

Then find details of a phenomenal give-away which includes 2 luxury watches and a $150 Amazon gift card.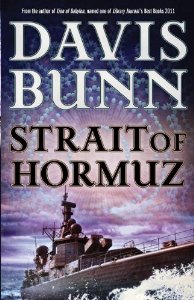 Tested Loyalty. Tested Courage. Tested Faith.
"The danger is real … and inbound." Marc Royce, Strait of Hormuz
With an economy of words and profusion of images, Strait of Hormuz by Davis Bunn is a story seemingly ripped from today's news. 
American Marc Royce has been sent on a clandestine intelligence operation that takes him to Switzerland, then across Europe into the Middle East, without backup or even a gun. He must penetrate the veil of secrecy around art thieves, smugglers, and terrorists to determine who he can trust as he uncovers which threats to himself and peace in the Mid-East are real and how they can be thwarted.
As Royce pursues the truth, each connection he has with the US intelligence community gets ripped away, and the operation grows increasingly perilous. This suspenseful journey tests his endurance, insight, and wisdom. But it is also a personal saga of tested limits, love, and faith. Will he rely on himself or on God? 
Bunn populates this tale with a few familiar characters from earlier in the series—Ambassador Walton, pilot Carter Dawes, and the smart and lovely Israeli, Kitra Korban—joining a new cast of realistic, intriguing, and flawed characters struggling to find their way and purpose in an ever more dangerous world. 
As Royce pursues information and then solutions, the operation grows increasingly perilous as each link with the US intelligence community gets ripped away from him. When it seems the challenges can't get worse—more adversaries materialize. When all appears lost—an ally emerges from an unlikely direction. 
Bunn weaves an intricate story, packing danger and suspense into every mile of the journey. Strait of Hormuz captured my interest on page one and carried me away as surely as a roaring mountain river. The settings springs off the page. The characters engage. The plot intrigues. 
Davis Bunn's skill as a writer continues to astound me. In Strait of Hormuz, Marc Royce begins his quest with only vague information and nebulous goals. But as each turn of events raises the stakes, Royce's focus compresses until he locks on his target and becomes a human laser-guided missile. Truly, a worthy hero. And though I know of no plans for making this book into a movie—there should be.  
Extra — My husband Ed believes this tale is a perfect illustration of God's sovereignty and the thirty-third verse of Matthew 6: "But seek first the kingdom of God and His righteousness and all these things will be added to you." He also says Strait of Hormuz is his favorite of Bunn's Marc Royce adventures.
That makes this a 4 thumbs-up, 10 star review! Also, many thanks to Laura Christianson of Blogging Bistro for the tech help with the interview.  And now, Davis:
Q: What spiritual theme is the focus of this story?  
DB: One growing area of the missionary church movement is with displaced persons. More than five million Iranians have been expelled from their homeland, or been forced to flee the current regime. This includes virtually the entire Christian population. The missionary church movement has made enormous strides in bringing peace to these families and introducing Christ into the world of Muslims fleeing a Muslim government.
Q: What drew you to the missionary church movement as a theme? 
DB: I came to faith in a missionary church. I was working as a consultant based in Germany. The year I accepted Christ, the Southern Baptist Mission Board founded a missionary church in Dusseldorf. I attended the church, I grew in the church, I studied under two amazing pastors, and one of them returned to Europe to marry us.
It was also where I learned to write. Two weeks after coming to faith, I felt called to writing. I wrote for nine years and completed seven books before my first was accepted for publication. The church, its members, and the elders all played a critical role in bringing me to where I am now. I am living testimony to the vital role played by the missionary church.
Q: All three of the books in this series have given significant insight into the Muslim world, something critics have picked up on. What experience do you have with this region?
DB: For the four years prior to moving to Germany, I lived and worked in the Middle East. I was the only non-Muslim in the management structure of a family-owned company. They had three major arms: construction equipment, shipping, and pharmaceuticals. I rose to become Marketing Manager of the pharmaceutical division.
One of the requirements of this job was to take instruction in the Koran and Islamic history from an imam who taught at the local university. I think this experience played a major role in my coming to Christ.
Q: This story includes two special components from your early life. Tell us about them.
DB: My mother worked as an antiques dealer. In truth, 'work' was not really the correct term, because this was a passion she inherited from her mother. They bonded while my mom was still a child, going to small eastern Carolina towns and hunting around junk stores for the sort of bargains that don't exist anymore.
Their first love was early Americana, a type of colonial furniture known as Jacobean that predated America's nationhood. I never really shared this passion, but in two previous books I came to respect and admire those who do.
And so I knew a great delight in re-entering this world in Strait of Hormuz, only this time at the very highest end. Strait takes place in the rarified world of multi-million dollar art, where the richest of collectors vie with museums and galleries for items that are no longer classed as antiques, but rather as treasures
The second special component was the location. I lived in Switzerland for almost five years, and many of the venues were places where I worked, and walked, and came to discover myself as an author.
Davis Bunn is a four-time Christy Award-winning, best-selling author now serving as writer-in-residence at Regent's Park College, Oxford University in the United Kingdom. Defined by readers and reviewers as a "wise teacher," "gentleman adventurer," "consummate writer," and "Renaissance man," his work in business took him to over 40 countries around the world, and his books have sold more than seven million copies in sixteen languages.
Strait of Hormuz is the series finale of the popular Marc Royce Adventures. Library Journal named Lion of Babylon (Book 1) a "Best Book of 2011."  Rare Earth (Book 2) won the 2013 Christy Award for best suspense novel and was a CBA top 20 best-seller.
Read sample chapters 1-3 of Strait of Hormuz here
Davis's Pinterest Strait of Hormuz board was great fun. Check it out.
You can connect with him through his website/blog at www.davisbunn.com., Facebook, or Twitter.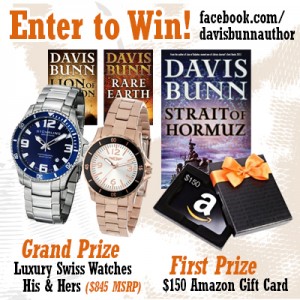 And last but not least–You could win his & hers luxury watches or $150 Amazon card by celebrating Strait of Hormuz release with us. Enter here once each day! What a treat.
About Strait of Hormuz
ISBN (Trade Paperback): 978-0-7642-1138-6
ISBN (Hardback): 978-0-7642-1145-4
ISBN (eBook): 978-1-4412-6279-0
336 pages
November 5, 2013 from Bethany House Publishers, a division of Baker Publishing Group