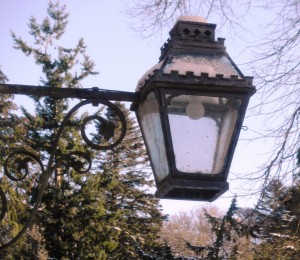 WELCOME to my blog, written at the intersection of Our Plans Lane and God's Purposes Boulevard.
This crossroads is a place I love to explore—so much happens here. New delights pop up every time I hang out here. So grab a spot on the convenient bench here and let's chat.
To be very useful, every road needs …
SIGNPOSTS
Sign posts are a good thing. Helpful in avoiding all manner of hazards.

Oh my.
A helpful warning, I suppose. But dreadfully difficult to follow.
Driving along a mountain road in Hawaii, I would never, ever have thought to watch out for phantom cattle. Would you?
So too, I never expected many of the potholes along my life's road. They can delay, cause a detour, or downright disable us for a season. I'm so glad these hidden perils are not hidden from God, that He knows what lies ahead, and is more than willing to guide along the best path.
What are some helpful signposts you've observed?